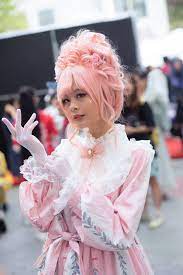 Introduction
During the 1970s, stationery with cute characters and novelty goods became popular, giving rise to Kawaii in commercial culture. It lagged from the 1980s to the early 1990s but began gaining momentum again in anime, manga, and popular culture. Fashion and beauty are also influenced by kawaii, where girls prefer to be called cute rather than sexy. It is also possible to be your version of kawaii, starting with your hairstyle. This guide is all about the Kawaii hairstyles in detail.
Top 9 Kawaii hairstyles
1. Ribbon hairstyles for pigtails
When you start in kawaii, you don't have to change your style completely. A simple yet cute hairstyle like this pigtail can be a good starting point. The first thing you should do is brush your hair to prevent tangles. Then, divide your hair into two sections by parting it in the middle. You will be able to style one side without the other interfering. Tie an area first so it won't interfere with the other.
You should tie one ponytail with a fine-toothed comb and comb it from the crown and the back of your head, starting from the center part. Your hair should then be tied at eyebrow level with an elastic.
Ensure that your hair is tangle-free by combing it again. Repeat the process on the other section of your hair. The story of both pigtails should be the same. You are now ready to wrap vibrant-colored ribbons around each elastic!
2. Decorative hair clips
Harajuku's decora style was traditionally not this pretty bright because most people kept their hair dyed black. But picking clips with colorful shapes and colors can add a kawaii-style pop to your hairstyle!
It is especially recommended for women with straight bangs to place as many small clips around the front of their hair as they would like! The art of decor is one of the best ways to express yourself.
3. Hairstyle with full bangs and hat
Even simple things like wearing a hat can make you look kawaii, especially if you have long bangs. Adding vibrant colors to your hair will make this 'do more enjoyable. If you want a kawaii look, you can also choose brown shades. Choose light and medium brown hair colors, such as copper or cinnamon.
Read more:A Comprehensive Guide About 8 Most Attractive Types Of Shoes For Men In 2022
4. A floral headpiece and a bob
Would you like to wear an outfit that is a bit cleaner for dinner with the family? Flower crowns and floral headpieces topped off with a bow or two complements a sleek bob and bangs perfectly!
5. Bob with half-up space buns
Are you looking for a way to style your short or medium-length tresses in buns? There's no need to worry, and you can do both! As with pigtails, only this time you'll tie two small sections of hair at the side instead of putting your hair in pigtails. It would help if you ironed the tips of your hair inwards for your bob to prevent flyaways.
6. Hairstyle with Gyaru cat ears
Those who like the car ear style earlier but prefer a more subtle shape may enjoy these Gyaru cat ears! The "ears" are created by dividing your hair into sections, brushing it back smoothly, and curling it like a 1950's victory roll. Make sure they are pinned up and to the sides!
7. A half-updo with ribbons
This hairstyle gives you a kawaii look that's sweet and doll-like. Tie your hair into a ponytail by grabbing a section from the temples up to the crown. By wrapping a ribbon around your hair tie, add loose waves to the tips of your hair. To straighten and smooth your bangs, blow-dry them and use a fine-tooth comb.
8. Teal hair dyed with dip dye.
The bottom section of your naturally dark hair can be dyed to give it a more dramatic look. The teal adds just the right pinch of flair, and it looks seamless transitioning from black to teal. You can give your hair a touch of personality with a large hair piece or accessory.
The kawaii hairstyles give you the freedom to express yourself at all times. The ability to think creatively and outside the box will make you stand out from the crowd.
9. A royal or Hime kawaii hairstyle
A Royal Kawaii hairstyle will always be highly decorative, whether it's the super-long hair with curls at the end of the bun with colorful sticks.
Alternatively, they can be used to create cute fairy hairstyles. You can play around with royal hairstyles to make your hair look regal and enchanting. Adding curls, loops, and braids gives you a look that's fit for a modern princess.
Consider gold and gemstone hair pieces or baroque-inspired hairpieces to turn into an anime queen or dainty princess with gold and gems. A curled and braided cosplay wig with two very long and thin curls at the front makes a good cosplay wig for a tiara.
It is almost always decorative and tidy when it comes to the styles of the royal girls in anime. Their thin frames are also often complemented by their enormous sizes.
Additional tips for Kawaii hairstyle
The kawaii look is known for its chunky squishy appearance, and this is also true of the kawaii hair. The hair does have a certain amount of pointiness, but it is not as extreme as manga hair. Although everyone loves it, there are no wispy ends.
The hair of a kawaii character does not appear to be three-dimensional. A flat shape appears to be its characteristic. There will be no shading or highlighting.
Don't be afraid to use fun colors! The color of your hair will not be affected by a kawaii hairstyle, whether it is blue, purple, or orange
A continuous outline should be present in kawaii hair. The outline of kawaii hair follows a smooth line all around the head and hair, unlike the outline of realistic hair, which has broken outline lines to show overlap.
Make sure that individual hair strands do not overlap. Make the hair look more attractive by creating an overall shape rather than arranging the individual strands by hand.
Apart from this, if you are interested to know more about Cost Of Living In Turkey then visit our FEATURED category.
FAQs (Frequently Asked Questions)
What does the word kawaii mean?
Since time passed, the word kawaii has gradually changed from referring to blushing to being translated as 'cute.' Besides being cute, kawaii has a tremendous impact on Japanese culture and is seen everywhere, from anime, fashion, to music, to lifestyle.
How does a two-block haircut work?
Hairstyles with two distinct hair lengths are called two-block haircuts. Rather than shaving the sides and back, the hair on top is left long and loosely styled. Despite its similarity to the undercut, it isn't the same. Korea is known for its trendy haircuts.
Does kawaii have an aesthetic?
The word "kawaii" refers to an aesthetic sense distinct from "cute" and "pretty." It is not the result of modern Japanese youth culture that this aesthetic sense evolved. It comes from traditional Japanese aesthetics.
Does kawaii goth exist?
It combines goth and grunge elements and touches of bohemian chic, and pastel elements of kawaii aesthetics. The DJ Juria Nakagawa, whose style is heavily influenced by what's popular on Tumble, also spread the trend in Japan for a brief period.
Do you know how to speak kawaii?
The sound 'TH' is replaced by a 'D' to form kawaii English with a 'th' sound. If you want to try it, instead of saying "that's kind of creepy," say "it's kind of creepy." A 'W' sound would not replace the 'K.' only the 'L' and 'R' sounds would be replaced with 'W.'